Last week we successfully completed the first ever What Is Drum event where over 100 parents and children of all ages flocked to Fielden Hall, Todmorden over a glorious 2 days in order to take part in our Summer Workshops, where sessions ranging from Dance & Movement all the way to Pregnancy Drumming & Dance took place!
Day one began with a massive turnout for the Baby Music session where we started to establish foundations for the unborn child's musical journey. Led by experienced teachers Kati and Claire, we focused on improving confidence and bonding within the group, providing exercise ideas that participants can continue to practise at home.
Pregnancy Drumming & Dance swiftly followed where Kati and Claire returned to intimately teach the practise of building the foundations of music and rhythm in utero (the best place to start learning musicality!) before moving onto Strings & Keys in the afternoon. Featuring a range of experience levels, participants rapidly developed a basic understanding of the fretboard and strumming patterns that they can now utilise to further their progression in the world of music!
The final session ensured we finished the first day with a bang! Another huge turnout for Pop Choir guaranteed professional vocal coach Ann Hudson had her work cut out, but by the end of the session the unbelievably talented group of children were able to confidently and triumphantly sing in unison in front of a beaming audience of parents! A fitting end to a fantastic first day at Fielden Hall!
Day two began with an amazing session in Dance & Movement taught by Eve Wagster of Revival Dance Company where participants focused on finding and creating rhythmic patterns within the body, incorporating preparation and performance while learning how to 'arrive' in the body and be 'present'. We then moved onto the Kids Drumming session, taught by Creative Director of What Is Drum Aid Todd and his accomplice Ed Wells. Yet another astounding turnout guaranteed an electric atmosphere within the Hall where parents and children alike discovered the basics of rhythm and the benefit of releasing energy through music and movement. The final session of the Workshops was led by Brass instructor extraordinaire Atholl Ransome of The Haggis Horns and Mr Wilson's Second Liners fame. He brought his brilliant expertise and experience to the table in an intimate session focusing on building upon the already existing talents of the group.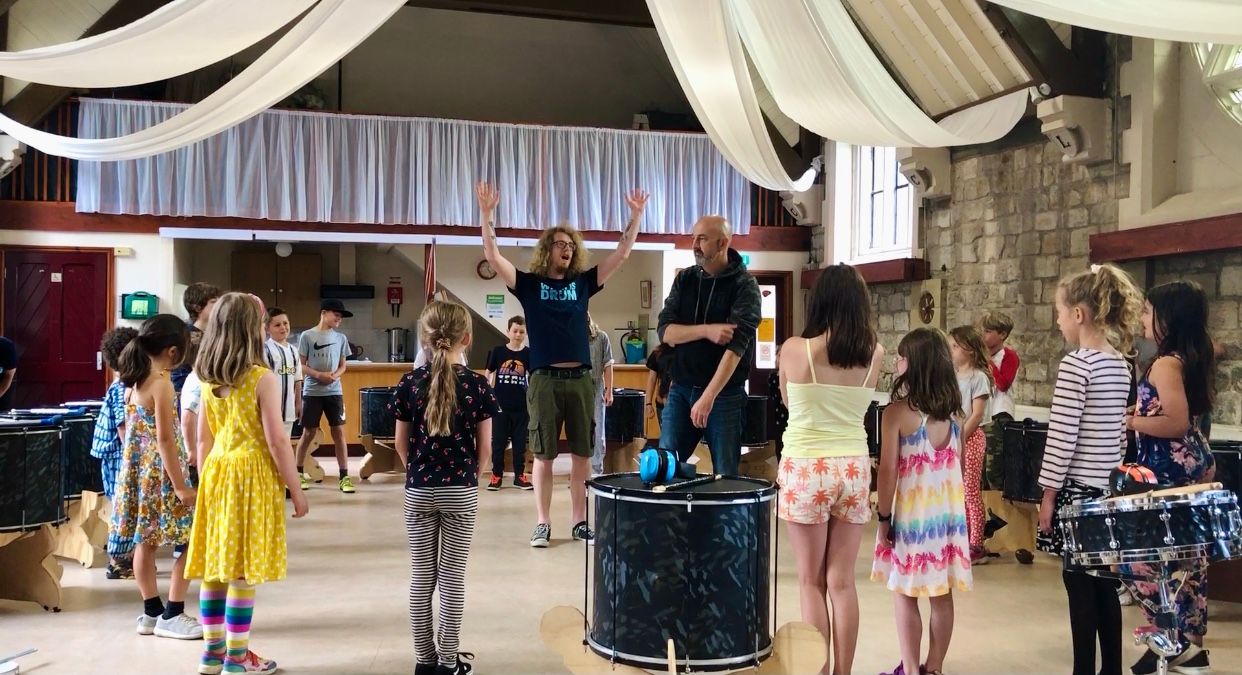 We'd like to send out a massive thank you to all the wonderful teachers involved, including Aid Todd, Kati Edwards, Claire Silvester, Ann Hudson, Ed Wells, Eve Wagster and Atholl Ramsome, not to mention the incredible parents and children for taking part and getting involved... thank you! With such a successful first outing behind us, there will surely be another on the horizon!
IF YOU WOULD LIKE TO CONTRIBUTE TO THE WHAT IS DRUM CAUSE PLEASE CONSIDER BECOMING A PATREON AT: www.patreon.com/WhatIsDrumCIC